UPDATE:   A must-read Salon piece:  "Celebrating Cronkite while ignoring what he did."
I'd love to hear your remembrances of this great man.  Here is mine.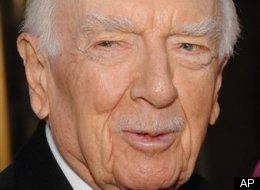 MSM:  RIP.
The last of the great journalists has died.  Walter Cronkite never let his popularity lead him to believe that he was bigger than the story or that he didn't have to do the hard work of serious reporting.  A young Cronkite probably couldn't even get a job with a major news network today.
But the purpose of this post is not to critique the MSM, but remember the man.  I met him once, a decade ago.   He was keynoting a conference I was speaking at.  I managed to introduce myself and shake his hand.  He is as classy, humble, and generous in person as he seems on TV.
Cronkite said that he had read the pre-conference material and very much liked something I had written.  I was too awestruck to respond intelligently, but it dawned on me a few minutes later that perhaps he would consider writing a jacket quote from my forthcoming book (see "Cool Companies, Part 1: How the best businesses boost profits and productivity by reducing greenhouse gas emissions" and "The United States of Waste").