Climate
Is it the end of the line for coal-to-oil in China?
That remarkable headline comes from a story in Zhang Qi (China Daily):
With just two exceptions, China has officially halted all of its coal-to-liquids (CTL) projects due to environmental and economic concerns.

In a notice posted on its website on September 4, the National Development and Reform Commission (NDRC) said that, apart from two projects operated by the Shenhua Group, none could go ahead before receiving official approval, because CTL is "a technology-, talent- and capital-intensive project at an experimental stage with high business risks."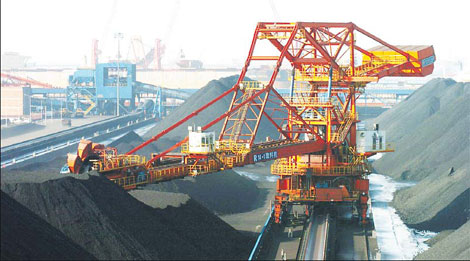 The Chinese have been exceedingly erratic on their plans for liquid coal (see, for instance, "China sells its soul for liquid coal" and "China reins in liquid coal"). Let's hope this current cessation is not just due to the sharp drop in oil prices, which is certainly only a short-term phenomenon.
More highlights from the article:
The move aims to "control the business risks of the country's coal-to-oil industry", the NDRC said.

The commission also called on local governments not to approve any new coal-to-oil projects.

The new restriction presents coal giants such as Yanzhou Mining Group, which already has several CTL projects under construction, with a big challenge, said China Coal Information Institute President Huang Shengchu.

Sasol said on Sept 7 it had suspended its indirect coal liquefaction project with Shenhua in Yulin, Shaanxi province. The project had been expected to cost $5-$7 billion and achieve an annual capacity of 3.6 million tons.

"The NDRC's notice has darkened prospects for CTL investors in China", Huang said.

Rising crude oil prices had sparked huge investor interest in CTL over the past two years….

Inner Mongolia had been planning to turn half of its annual coal output into CTL and other chemicals by 2010, requiring around 135 million tons of coal.

However, CTL "is not suitable to be developed on a large-scale basis due to environmental concerns", said Zhang.

Environmentalists are concerned about the huge amounts of water required by the process and its large carbon dioxide emissions.

Every three to five tons of coal can be converted into one ton of oil products such as diesel for cars, while in the process about 10 tons of water is needed to produce every ton of oil products, according to a report by Bohai Securities.

Many regions with large coal reserves have long-term drought problems, meaning that CTL projects would put great pressure on the local environment. In addition, this lack of water would also limit the long-term development of the CTL industry….
And if those regions think they have a drought problems now, just wait a few decades (see "Sorry, delayers & enablers, Part 2: Climate change means worse droughts for SW and world").
Liquid coal is a dead-end technology, though it would obviously be premature to give kudos to China for halting new liquid coal projects. Let's see if this moratorium persists when we get out of this global recession/depression and oil prices return to their previous levels and beyond.
Related posts:
One Response to Is it the end of the line for coal-to-oil in China?