Climate
Walter Cronkite, the last journalist, dies at 92
UPDATE:   A must-read Salon piece:  "Celebrating Cronkite while ignoring what he did."
I'd love to hear your remembrances of this great man.  Here is mine.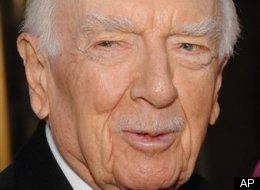 MSM:  RIP.
The last of the great journalists has died.  Walter Cronkite never let his popularity lead him to believe that he was bigger than the story or that he didn't have to do the hard work of serious reporting.  A young Cronkite probably couldn't even get a job with a major news network today.
But the purpose of this post is not to critique the MSM, but remember the man.  I met him once, a decade ago.   He was keynoting a conference I was speaking at.  I managed to introduce myself and shake his hand.  He is as classy, humble, and generous in person as he seems on TV.
Cronkite said that he had read the pre-conference material and very much liked something I had written.  I was too awestruck to respond intelligently, but it dawned on me a few minutes later that perhaps he would consider writing a jacket quote from my forthcoming book (see "Cool Companies, Part 1: How the best businesses boost profits and productivity by reducing greenhouse gas emissions" and "The United States of Waste").
I found his assistant — he was surrounded by a presidential-sized crowd — and chatted with her.  She made no promises, but I got her card, and ultimately he agreed to read my manuscript.
Needless to say, he could easily have demurred.  But it turns out that his kind words to me were not small talk.  And that's why the top quote on the back jacket of Cool Companies reads:
"It would seem that Dr. Joseph Romm is a 21st-century alchemist, but here is his book full of examples of companies — micro-small to mega-large — that are improving the environment while simultaneously increasing their profits.  Their experiences are an invaluable guide to more hopeful future and a refutation of the claims by too many in industry that they can't afford to be good citizens by cleaning up their polluting effluents."

— Walter Cronkite
So I remember him as a man who said what he meant and meant what he said.  When shall we see his like again?
For a fitting epitaph, only Shakespeare comes to mind:
His legs bestrid the ocean; his rear'd arm
Crested the world; his voice was propertied
As all the tuned spheres, and that to friends;
But when he meant to quail and shake the orb,
He was as rattling thunder. For his bounty,
There was no winter in't, an autumn 'twas
That grew the more by reaping; his delights
Were dolphin-like, they show'd his back above
The element they liv'd in; in his livery
Walk'd crowns and crownets, realms and islands were
As plates dropp'd from his pocket.
12 Responses to Walter Cronkite, the last journalist, dies at 92