Climate
Are conservatives capable of producing their own Ted Kennedy? What can progressives learn from him?
Q:  Would any GOP Senator today get the kind of funeral and remembrance that Edward Kennedy has?
A:  That is increasingly unlikely.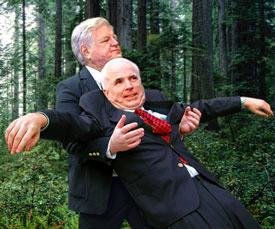 Certainly all GOP Senators who vote against the upcoming climate and clean energy bill will be consigning themselves to be dustbin of history.  Given how rapidly climate impacts are accelerating, by the 2020s the entire country — even most Republicans — will realize how tragically mistaken were those who blocked serious action and who demagogued against those trying to avert catastrophe.  Those conservatives who want to be fondly eulogized by the status quo media and centrist opinionmakers have maybe a decade left.
Dick Cheney himself may live long enough to be seen by even his last 3 or 4 remaining admirers as a leading agent of humanity's self-destruction (see "Has anyone in U.S. history made more Americans less safe than Dick Cheney?").  And I can't even imagine the kind of funeral President George W. Bush will get if he lives to, say, the 2030s, when the consequences of his all-out effort to stop domestic and international action on climate change have initiated the grim time in American history I've labeled "Planetary Purgatory."
But there are also important lessons for Democrats here, too.  Although an indisputable liberal lion, Kennedy repeatedly reached across the aisle to achieve what was achievable.  As the Post reported this weekend in, many Democrats say
… what made Kennedy successful was knowing when to compromise, when to agree to terms that fell short of expectations but left room for later gains. "He had this unerring sense of what was the critical bottom line for the people most in need — what the key goal was you were making progress on and why you were at the table to begin with," said Robert Greenstein, director of the Center on Budget and Policy Priorities.
Geoff Garin, a Democratic pollster and strategist has brief but must-read op-ed, "Where's the GOP's Ted Kennedy?":
Ted Kennedy's voice and leadership will be sorely missed in the effort to pass health-care reform. But when Republicans say that Democrats don't have anyone to take his place in achieving a bipartisan compromise, they are either missing, or deliberately obscuring, the relevant lesson of Kennedy's example.

The truth is that Senate Finance Committee Chairman Max Baucus, with the support of the White House, has worked hard for months to reach consensus with Sens. Chuck Grassley, Olympia Snowe and Mike Enzi on a health-reform bill — incurring, for his trouble, more than a little heat from the progressive wing of the Democratic Party. But so far, the Republicans haven't had the will, courage or independence to strike a deal. Minority Leader Mitch McConnell has been doing his best to end the negotiations, apparently agreeing with Jim DeMint's political assessment that health care could be President Obama's Waterloo. And now Chuck Grassley says he could sign only a compromise that a majority of the GOP caucus would support.

The problem is not that there is no Ted Kennedy among the Democrats who understands the art of compromise. The problem is that there is no Republican willing to provide, for health reform, the kind of bold leadership that Kennedy provided to help pass controversial legislation when George W. Bush was president.

For example, No Child Left Behind become law because Kennedy agreed to support President Bush's signal education initiative — aggravating more than a few members of the Democratic caucus and establishment who thought the act was wrong on the merits and poor politics. But Kennedy believed it was worth the risk and lent his prestige and credibility to making it happen.

Democrats did not get their way on the creation of the Medicare prescription-drug benefit, but on that, too, Kennedy decided that something was better than nothing, even though seniors were required to buy their coverage through private companies and Medicare was prevented from negotiating with the pharmaceutical companies for the best prices.

Kennedy gave Bush a victory rather than sending the Republicans to their Waterloo because he believed the result was more important than short-term politics. If Republicans really want to honor the senator's memory, they should stop using him as an excuse for the failure of health-care reform and instead start living up to his example.
What Garin says about the lack of boldly GOP leadership goes double for the climate change bill, a far more consequential piece of legislation.  We had one such senator last Congress, John Warner (R-VA), stalwart conservative understood the dire nature of the problem, particularly from a national security perspective.
The only conservative Senator who comes close now is John McCain.  Until very recently he had been strongly dissing the House climate bill, but recently he appears to be remembering that the science has become more dire.  I have difficulty seeing how we get beat a filibuster if McCain isn't one of the 60 votes.  Unfortunately, I'm not sure who else he would bring with him — perhaps Lindsey Graham.  Still, those two coupled with the two Maine Senators would be pretty darn close to what is needed.
Can we find enough conservative senators to make a deal?  Will progressives be able to take a Kennedy-esque compromise?  In September, I'll take a closer look at where the swing Senators stand and what  the deal might look like.
17 Responses to Are conservatives capable of producing their own Ted Kennedy? What can progressives learn from him?