Climate
Good COP, Bad COP — or COP out in COPenhagen
Watcha gonna do when AGW comes for you?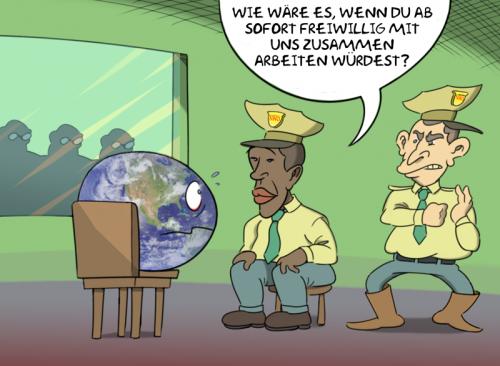 Must get the COP-15 puns out of my system now, but I welcome more puns from you all on this Conference of Parties — which has become a true Party of Conferences, with NGOs booted out of the Bella Center and forced to confer separately!
I'm not sure if COP-u-late works, but while it's definitely not too a COP-too-late to avoid a climate catastrophe, it will be if COP-15 fails.  Then we'll all be singing, What will you do when anthropogenic global warming impacts come for you?  [OK, not catchy lyrics, indeed, not lyrics anyone wants to catch.]
I've been schmoozing a bit with muckety-mucks — you know, your Al Gores and Tim Wirths and even your Dan Reichers [don't worry, there's only one of my former boss at DOE] — and I must say that the mood is not optimistic.  What nobody can yet tell is whether:
Maybe COP-15 in Copenhagen will be a cop out, with no substantive agreement on major issues other than perhaps a plan to halt deforestation aka REDD or
Maybe the senior climate negotiators are playing an elaborate game of good cop, bad cop, where they are the bad cops and their bosses — the ministers and world leaders — are the good cops.
Stay tuned to this space because I'm not certain we'll know until late Friday, or perhaps mid-day Saturday, or perhaps not until early Sunday, as some negotiators seem to be planning for.
The rest of this post is the daily round-up by Brad Johnson, "Copenhagen Day Ten: Pressure Increases For A Fair, Ambitious, And Binding Deal":
Negotiations continue behind closed doors and the shape of a final agreement is coming together, as the political stakes are raised in Copenhagen by the arrival of 119 heads of state.

Voice Of The Future

During the opening of the high level segment of the Copenhagen conference, "approximately 30 international youth staged a sit-in" in the middle of the convention hall, "refusing to leave the talks until a fair, ambitious, and legally binding treaty was reached." Youth from every corner of the globe "" "Canada, Wales, Turkey, France, U.S., Denmark, Australia, Germany, China, Lebanon, England, Ireland, Kenya, Norway" "" "began to read the names of the more than 11 million people who signed a petition demanding the same fair, ambitious, and legally binding agreement that is needed to avoid dangerous climate change and usher in a global clean energy economy." As of 9 PM Copenhagen time, the sit-in continues, despite at least one youth being dragged out by security.

The People Are Locked Out

The hundreds of members of Friends of the Earth International, the largest global grassroots environmental federation in the world, were barred from entering the Bella conference center today, because United Nations officials believed some were planning to participate in an effort to help demonstrators into the center. The protesters outside "" calling for a treaty commensurate to the scale of the climate crisis "" were beaten and pepper sprayed by police as they pushed toward the conference. Representatives of indigenous peoples, whose voice is heard but influence is limited, were blocked in their attempt to join with the protesters.

The 22,000 members of every non-governmental organization (NGOs) will be effectively locked out for the rest of the conference, with only 1000 allowed in on Thursday and 90 on Friday. "Their absence in the crucial final days of the conference will be a blow to poor nations who rely on NGO assistance to get their voices heard, the NGOs say, and it will keep out non-governmental experts who could quickly analyze any proposed deals, leaving the world hearing only the claims of politicians."

'If The Climate Was A Bank, They Would Have Already Saved It'

Heads of state from 119 countries have begun making statements at the plenary. Venezuela President Hugo Chavez condemned capitalism for "everything that's wrong with the planet," saying "if the climate was a bank, [the United States] would already have saved it."

The speech by Australia's Climate Change Minister Penny Wong "" who represents the "umbrella group" of the United States, Canada, Japan and New Zealand "" was interrupted by protesters yelling "climate justice now."

Julian Wong: Seeing China Clearly

In the second week of negotiations, the two issues that continue to gain the most attention on China's position on international financing and transparency. Our friends tracking the China delegation at ClimateProgress report that China is unambiguous about the fact that it is not "first in line" for access to international climate funds, but it does not disqualify itself from it entirely either.

On transparency, China is willing to go the whole nine yards on subjecting its climate change actions to international standards of verification (technically known as MRV, or measurable-reportable-verifiable), but only if such actions are supported by financial or technological assistance. So far, China has been able to self-fund its extensive climate actions. Instead, China promises to uphold transparency on unsupported actions through its own domestic system of auditing, supervision and assessment, or ASA. Are these two standards of transparency so different as to be irreconcilable? The drama will be played out in the next few days. More »« Less

Africa Finds Agreement With Western World

Ethiopian Prime Minister and head of African delegation Meles Zenawi, in partnership with France, has "moved to a last-minute rescue plan to reach global climate deal as the ongoing negotiation faces uncertainties." The plan, which was announced after a meeting between Zenawi and French president Nicholas Sarkozy and a phone call from President Obama, is also endorsed by the United States and the United Kingdom. However, "one of the sharpest critiques came from Desmond Tutu, the South African archbishop and Nobel Peace Prize laureate," who said today in a letter to African heads of state that the emission cuts on the table would "condemn Africa to incineration and no modern development."
9 Responses to Good COP, Bad COP — or COP out in COPenhagen