"The science now convinces us that calls for immediate action are warranted to avoid the worst consequences of global warming on Wisconsin's economy and environment, including the Great Lakes."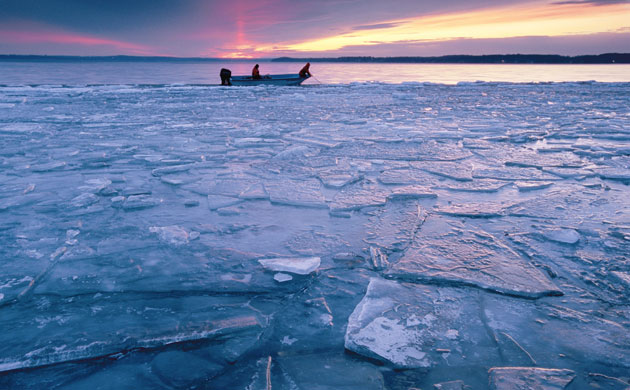 This is a guest post by Peter Gray of the Environmental Law and Policy Center, "the Midwest's leading public interest environmental legal advocacy and eco-business innovation organization."
This month, 113 Wisconsin scientists joined together to urge Wisconsin's senators to enact strong federal policies to combat climate change. A letter signed by the scientists was delivered December 8 to Senators Kohl and Feingold.  It explains the specific ways that climate change threatens Wisconsin's economy and public health and how Wisconsin stands to benefit from climate change solutions:
Federal Climate Change Legislation
December 8, 2009
To:      Wisconsin's Congressional Delegation
From:  University of Wisconsin and partner's researchers
RE:     Legislation to address greenhouse gas emissions

We are writing to you as scientists in colleges and universities across the state of Wisconsin to urge the Wisconsin Congressional delegation to support strong federal policies for rapid and deep reductions in emissions of carbon dioxide and other greenhouse gases at least on par with the reductions recommended by the intergovernmental panel on climate change.

The science now convinces us that calls for immediate action are warranted to avoid the worst consequences of global warming on Wisconsin's economy and environment, including the Great Lakes. While slowing the damaging effects of climate change poses challenges, we also believe such action presents Wisconsin with real opportunities to reinvigorate our economy and improve the quality of life for all Wisconsinites.

Controlling carbon emissions will allow for Wisconsin and the United States to take full advantage of the clean renewable resources and energy efficient technologies that are available today. A workable federal policy to combat global warming will also encourage researchers, investors, and businesses to accelerate development and deployment of next generation energy technologies. Putting a price on carbon is a critical step toward building a clean energy future for the US and right here in Wisconsin.

Climate policy at the federal level offers a unique opportunity to protect valuable natural resources and stimulate the economy. A comprehensive federal climate and energy policy can provide the stable regulatory framework, appropriate market signals, and long-term investment commitment necessary to jumpstart new business, transition core industries, and enhance our global competitiveness.

According to "Job Opportunities For The Green Economy: A State-By-State Picture Of Occupations That Gain From Green Investments", there are currently almost 450,000 jobs that would be considered green jobs in Wisconsin.  If, as expected, there is an increase in demand for solar, wind, building retrofitting, cellulosic biofuels, more fuel efficient transportation or mass transit options, then it is not unreasonable to expect a 25% increase in the jobs in these areas.  A 25% increase would represent an additional 112,500 jobs in Wisconsin, with half of these in the manufacturing area. As an example, Johnson Controls, the largest business in Wisconsin, is a leader in the green jobs field, with expertise in energy efficient building systems and next generation batteries.

Sound climate policy will accelerate this transition – it is a critical part of the stimulus that our struggling economy needs. A recent report from the Apollo Alliance states that a $13 billion investment in clean energy in Wisconsin would yield approximately 93,000 new jobs, with about 27,297 of those in manufacturing and 11,199 in construction.

Doing nothing is not a viable option for Wisconsin. Our state faces serious economic, social, and ecological impacts from global warming. If climate change continues on its present course, not only will we miss out on the new economic opportunities outlined above, but some of Wisconsin's industries, agriculture and tourism, could suffer. Additionally, climate change could seriously impact water quantity and quality in the Great Lakes, leading to greater conflicts over water resources in the region.

Agriculture is a key Wisconsin industry, contributing approximately HU$59 billion in annual industrial sales to the state, along with 353,991 jobs and $20 billion in income.  Many of the jobs and much of the economic impact provided by Wisconsin's agriculture industry could be lost if climate change continues on its present course. Conversely, Wisconsin universities are leaders in agriculture and bioenergy research, and Wisconsin farmers stand to gain from federal policy that promotes renewable energy and caps carbon pollution. Farmers, for instance, could realize new revenue by leasing land for wind turbines and assigning unproductive cropland to carbon offset programs and producing biomass for next generation renewable fuels.

Heat waves and increased ozone concentrations projected with climate change can adversely affect human health, especially the young and the elderly.  Intense rainfall and heavy runoff are expected to increase up to 40% by mid-century, markedly raising water quality-related human health risks.  Such conditions also decrease crop production. Intense rainstorms during spring planting season and summer droughts, both of which have increased in recent decades, will continue with greater intensity under "business as usual" carbon emissions and will likely reduce agricultural productivity and pollute our surface waters, including the Great Lakes. Hotter, drier summers and more droughts will require additional irrigation for crops that were previously rain-fed. Warmer winters will favor more southern insects, pests, and plant pathogens. All of these factors could dramatically reduce agricultural production and increase costs for farmers, agri-businesses, and others who have either direct or indirect ties to Wisconsin's agriculture industry.

Left unchecked, climate change will also harm our state's tourism industry. Tourism contributes $13 billion in direct spending each year to Wisconsin's economy, and brings in $2 billion in state and local taxes and provides 310,000 jobs, according to the Wisconsin Department of Tourism.

Winter sports, such as skiing, snowmobiling, ice fishing, and snowboarding will suffer due to shorter, warmer winters. Warmer Great Lakes, rivers, streams, and inland lakes will change the distribution of fish species, and many species of coldwater fish "" including three of our trout species (Brook, Rainbow and Brown Trout) "" could disappear from our region. Bird-watching activities will slow due to a decline in bird diversity, particularly among waterfowl and songbirds. Longer, hotter summers could increase beach use, but  beach recreation could see a decline in activities because of more volatile weather and potential increases in pollution and waterborne- and insect- diseases.

Policymakers have a clear choice: allow climate change to continue on its present path and cause serious long-term damage to Wisconsin's population, natural resources and economy, or embrace an enlightened global warming solutions policy that will protect our air, water, land, and Great Lakes while spurring economic growth at home in Wisconsin. There are even "co-benefits" in pursuing a less carbon-intensive economy.  For example, reducing transport trips with internal combustion engines could save our state many lives and health care costs simply by beneficial effects from clearer air quality.
For all these reasons, we strongly urge you to pass without further delay strong global warming policies that can give Wisconsin citizens, businesses, and farmers cost-effective, clean and affordable energy.

Sincerely,
Professor Jonathan Patz
University of Wisconsin-Madison
Professor and Lead Author for the
UN IPCC; Past Co-Chair, Health
Expert Panel, US National
Assessment on Climate Change

Professor John Magnuson
University of Wisconsin-Madison
Convening Lead Author for the
UN IPCC

Professor Don Waller
University of Wisconsin-Madison

Dr. Sandra McLellan
Great Lakes Water Institute
University of Wisconsin-Milwaukee

Dr. Monica G. Turner
University of Wisconsin-Madison
Member National Academy of
Sciences

Stephen R. Carpenter
University of Wisconsin-Madison
Member National Academy of
Sciences

Thomas L Eggert, Esq
Wisconsin School of Business

Additional Signatures as conveyed via the Internet (file available) as of December 7, 2009.
For more information contact: Peter Gray 312-795-3715
Download the letter and list of signatories here.