Climate
Would-be climate destroyer Sarah Palin attacks Obama for "generational theft"
Ex-gov writes "energy" on her hand, apparently so she'd remember to mention it.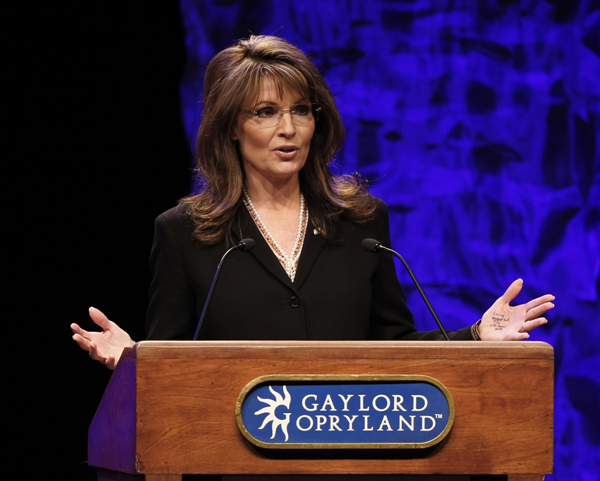 The annual convention of hypocrites with short memory (aka the Tea Partiers) paid FoxNews commentator Sarah Palin $100,000 to repeat conservative talking points:
Sarah Palin says President Barack Obama's proposed 2011 budget is "immoral" because it increases the national debt, which she called "generational theft."

Palin told the national "tea party" convention Saturday that America's national debt, which is held largely by other nations, "makes us less free" and "should tick us off."

The 2008 GOP vice presidential nominee got one of several standing ovations from the gathering of about 600 people when she said the nation is drowning in debt. The Obama administration argues that much of the nation's debt is being caused by tax cuts and a Medicare drug program enacted under former President George W. Bush.
Given that anti-science conservatives like Palin are the champions of the most grievous imaginable "generational theft" — doing nothing to stop catastrophic climate change — and given that they continue to push this "generational theft" meme, I'm going to update my earlier response (see "The Generational Theft Act of 2008, 2007, 2006, 2005, 2004, 2003, 2002, 2001″¦.)."
But first, yes, those are crib notes on her left hand — top word "energy" — as HuffPost (and photo below) show: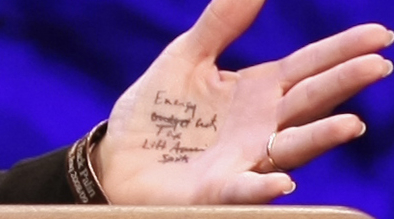 I must say it is odd she put "energy" on her hand when
She seems in the video to be using written notes from the lectern (which is entirely reasonable for her to do).
She is supposedly an expert on energy and talks about it in every one of her speeches.
She had little to say about energy in the speech, other than she likes nukes ("carbon-free energy") and drilling, but hates "cap and tax."
The fact that she got the Tea Partiers to pay $100,000 for this mismash of right-wing talking points proves she is not as dumb as some people condescendingly think!  But I digress.  Back to "generational theft."
The conservatives-who-make-your-head-explode crowd [yes, that may be is redundant] first attempted to label the stimulus bill, "The Generational Theft Act of 2009." ThinkProgress had an excellent post on the right-wing message machine's effort to turn Michelle Malkin's label into a fatal brand.  Now Palin is picking up the phrase to attack Obama budget, which in fact is another crucial effor to continue the clean energy transition and continue our climb out of the Bush-Cheney depression.
Fortunately, the label is doomed to fail for two simple reasons "" the message is not simple, and it lacks reason.
First, thank goodness conservatives no longer seem to be making much use of the services of word-meister Frank Luntz (see Bush climate speech follows Luntz playbook: "Technology, technology, blah, blah, blah"). He would never try to push a slogan based on a five-syllable word.
You'd have to look long and hard in the annals of advertising, politics, poetry, religion, and speechmaking to find a single memorable phrase with a five-syllable word in it. Go on. Try to find one. I dare ya!
As Churchill wrote in an unpublished essay, "The Scaffolding of Rhetoric," at the age of 23 (!), "All the speeches of great English rhetoricians "¦ display an uniform preference for short, homely words of common usage" (see "Why scientists aren't more persuasive, Part 1").
Second, if any group of people are guilty of generational theft, that would be conservatives.
Seriously.
The Bush tax cuts for the wealthy "" that would be generational theft.
The Iraq war and its trillion dollar liability, including hundreds of billions of dollars in Veteran's costs for decades to come, all "paid for" with money borrowed from our children "" that would be generational theft.
[It would be funny if it weren't sad to hear conservatives adding in the future "interest" payments to talk up the full cost of the stimulus bill. They have never cared about future interest payments or the full cost of anything they do (see, for instance, "The Iraq War Will Cost Us $3 Trillion, and Much More").]
And, of course, the Bush administration's successful effort to block domestic and international climate action, the steadfast opposition of conservative politicians to climate action, and indeed, the effort by the entire conservative movement stagnation to ridicule scientists and spread disinformation aimed at delaying action "" that would be generational theft.
Palin, of course, has become a leader of the do-nothing crowd (see WashPost goes tabloid, publishes second falsehood-filled op-ed by Sarah Palin in five months "" on climate science and the hacked emails!).
Indeed, the latest science makes clear that if we continue listening to conservative deniers and delayers for many more years, we won't just be thieving some money from the next generation "" we will be stealing a livable climate from our children and their children and countless future generations (see NOAA stunner: Climate change "largely irreversible for 1000 years," with permanent Dust Bowls in Southwest and around the globe).
You want to debate Generational Theft, conservatives? Bring it on!
Related Posts:
27 Responses to Would-be climate destroyer Sarah Palin attacks Obama for "generational theft"