Climate
Energy and Global Warming News for April 27: US & Canada lose higher percentage of forests than Brazil; Business groups say climate impasse undermines clean energy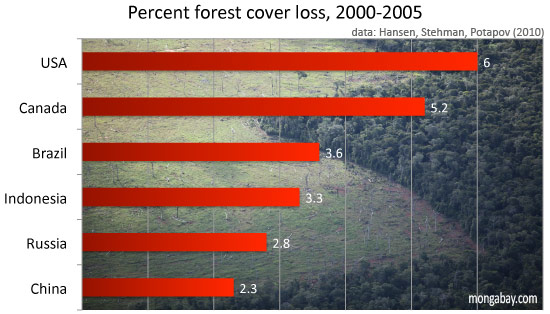 US & Canada Lose Higher Percentage of Forests Than Brazil
All I can say is wow! Mongabay is highlighting a new study in the Proceedings of the National Academy of Sciences which reveals that between 2000 and 2005 over one million square kilometers of forest were chopped down worldwide, with both the United States and Canada losing a greater percentage of forest than the poster children of tree destruction, Brazil and Indonesia.
Brazil Has Highest Area Loss, But Average Percentage
There is a little bit of stats parsing going on here: Looking at the seven nations which have more than one million square kilometers of forest still remaining–that's Brazil, Canada, China, Democratic Republic of Congo, Indonesia, Russia, and the United States–Brazil still led the pack in terms of area cleared, with about 33,000 square kilometers of both rainforest and tropical dry forest cleared per year, for a total of 165,000 square kilometers lost. That represents 3.6% of it's total forest cover at the start of the period examined.

However, though Canada and the United States lost less forest cover by area (160,000 and 120,000 square kilometers, respectively), in percentage terms Canada lost 5.2% of it's total and the US lost 6% of total forest cover.

Keep in mind, the global average for the time period was 3.5%.

The main drivers of forest loss in the US during this time period were fire and beetle infestation in Alaska and the western states, "large-scale logging in the southeast, along the western coast, and in the Midwest."

US Southeast Among Highest Rates of Global Deforestation
The report concludes,

The often publicized phenomenon of forest conversion within the humid tropics is observed in our results, but significant [gross forest cover loss] is evident in all biomes. For example, rates of GFCL in regions such as the southeast United States are among the highest globally.

Read more, about the distribution of forest loss by ecosystem: Mongabay

Here's the original paper: Quantification of global gross forest cover loss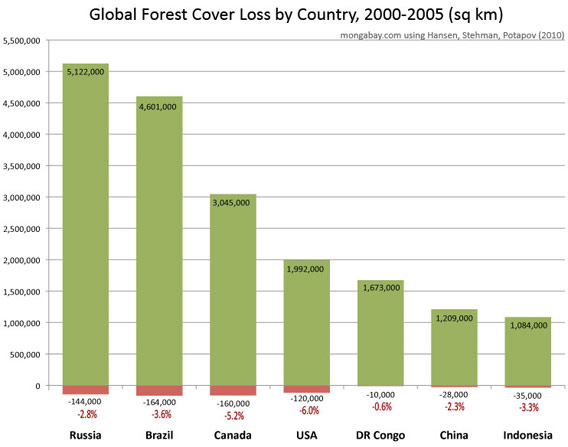 See also "Is human-caused climate change killing the great forests of the American West?"
Business Groups Say Climate Impasse Undermines Clean Energy
The Capitol Hill politics bogging down a climate bill in the Senate are also hobbling investments in low-carbon energy and prompting calls from some business groups for action.
President Barack Obama is scheduled to travel Tuesday to a Siemens Corp. wind turbine facility in Fort Madison, Iowa, Tuesday as part of the White House effort to tout the economic, environmental and national security benefits of clean energy investments. The company expanded the plant, adding more than 600 jobs with capital from the stimulus package and tax credits.
Siemens, a unit of the German parent company Siemens AG, is representative of thousands of companies looking to capitalize on a carbon-constrained economy. It is building a range of products that would be attractive if there was a cost for emitting carbon. Besides efficient motors and generators, they are also developing technology to capture emissions from coal plants, have a retro-fitting business that installs energy-efficient equipment in buildings, and plan to expand their solar power unit in the U.S.

Nearly every sector of the energy industry is in some way affected by Congressional deliberations on climate and energy policy, whether it is makers of wind turbines and solar plants, utilities planning nuclear power projects or companies that make natural-gas generators and clean-coal technology. While some want to see a carbon market that will create demand for their products, others say they want to get clarity on how the new emission rules will affect their plans.
The Environmental Protection Agency has announced an energy efficiency contest to help buildings around the nation trim their consumption.

Called the National Building Competition, it is patterned after "The Biggest Loser," an NBC show that spotlights overweight contestants trying to lose weight. The competitors include an office building in Midtown Manhattan, a department store in Southern California, a medical center in Cleveland and elementary schools in Colorado and New Jersey.

"We came up with the idea that most everyone could relate to the idea of losing weight, and that having U.S. buildings try to shed their energy waste made sense," Maura Beard, a spokeswoman for the E.P.A.'s Energy Star program, said in an e-mail message. "We felt people could follow the contestants, relate to their efforts and encourage similar changes in buildings across the country."

The 14 contestants, selected from among 200 applicants, will be encouraged to improve their efficiency by taking simple steps like turning off lights, unplugging power charges and switching to automated temperature controls.

The New York City participant, a 23-story building built in 1896 at 522 Fifth Avenue, at 44th Street, is owned by Morgan Stanley.
Cape Cod Project Is Crucial Step for U.S. Wind Industry
More than 800 giant wind turbines spin off the coasts of Denmark, Britain and seven other European countries, generating enough electricity from strong ocean breezes to power hundreds of thousands of homes. China's first offshore wind farm, a 102-megawatt venture near Shanghai, goes online this month, with more in the pipeline.

But despite a decade of efforts, not a single offshore turbine has been built in the United States.

Experts say progress has been slowed by a variety of factors, including poor economics, an uncertain regulatory framework and local opposition.

When the Obama administration announces a decision this week on the most prominent project "" Cape Wind, off the coast of Massachusetts "" it could have implications from Long Island to Lake Erie. An approval from Interior Secretary Ken Salazar might well nudge the project to completion as the nation's first offshore wind farm. On the other hand, some developers say a thumbs-down could gut America's offshore wind industry before it ever really gets started.

"It is imperative that Cape Wind gets built "" we need the momentum," said Peter Giller, chief executive of OffshoreMW, an upstart developer with ambitions to build two 700-megawatt projects off the shores of New Jersey and Massachusetts.

At least half a dozen offshore wind projects that could provide electricity for hundreds of thousands of customers have already been proposed in the shallow waters off the East Coast and the Great Lakes. Even more are in the paper-napkin stage, including a project that would place a bank of turbines about 13 miles off the Rockaway peninsula in New York.

Although offshore wind farms are roughly twice as expensive as land-based ones, developers and advocates say offshore projects have several advantages. Sea and lake breezes are typically stronger, steadier and more reliable than wind on land. Offshore turbines can also be located close to the power-hungry populations along the coasts, eliminating the need for new overland transmission lines. And if the turbines are built far enough from shore, they do not significantly alter the view "" a major objection from many local opponents.

The National Renewable Energy Laboratory has estimated that about 90,000 megawatts of electricity could be extracted from offshore winds in United States coastal waters less than 100 feet deep, the easiest and most cost-effective depths. Most of that potential lies in New England, the mid-Atlantic and the Great Lakes.

If the handful of American projects on the drawing board are built as planned, they would produce some 2,500 megawatts, according to the American Wind Energy Association, or about as much as two midsize nuclear power plants.

The Cape Wind project would place 130 turbines, each 440 feet tall, over 24 square miles of Nantucket Sound at a likely cost of more than $1 billion.

Opponents have argued that the venture is too expensive and would interfere with local fishermen, intrude on the sacred rituals and submerged burial grounds of two local Indian tribes and destroy the view.
22 Responses to Energy and Global Warming News for April 27: US & Canada lose higher percentage of forests than Brazil; Business groups say climate impasse undermines clean energy