Climate
Final 'forensic' UK report on emails vindicates climate science and research underlying the Hockey Stick
Muir Russell investigation "did not find any evidence of behavior that might undermine the conclusions of the IPCC" and says of CRU, "Their rigor and honesty as scientists are not in doubt."
UPDATE:  Great Newsweek story, "Climategate: The Heat Is Off."  A third inquiry clears British scientists of serious wrongdoing. What exactly was the scandal? A guide to the allegations of global warming shenanigans, and why they're overblown.
On the allegation of withholding temperature data, we find that CRU was not in a position to withhold access to such data or tamper with it.

On the allegation of biased station selection and analysis, we find no evidence of bias.

The overall implication of the allegations was to cast doubt on the extent to which CRU's work in this area could be trusted and should be relied upon and we find no evidence to support that implication.

On the allegations that there was subversion of the peer review or editorial process we find no evidence to substantiate this in the three instances examined in detail.

On the allegations that in two specific cases there had been a misuse by CRU scientists of the IPCC process, in presenting AR4 [the Fourth Assessment] to the public and policy makers, we find that the allegations cannot be upheld.

In particular, on the question of the composition of temperature reconstructions [in AR4], we found no evidence of exclusion of other published temperature reconstructions that would show a very different picture. The general discussion of sources of uncertainty in the text is extensive, including reference to divergence.
Recent media coverage of climate scientists and the phony scandal of "Climategate" has been driven by the old adage, "where there's smoke, there's fire."  And the anti-science crowd is nothing if not brilliant at blowing smoke, which is no surprise since they have borrowed the disinformation tactics of the Tobacco industry.
My father, a newspaper editor for over 30 years, had a wall-hanging that read "Nothing can stand the light of day."  Well, it turns out one thing can stand the light of day — climate science.
Sure, individual climate scientists are mere human beings, and they can sometimes act like homo 'sapiens' sapiens when persistently harassed by anti-science disinformers who are never held accountable for their smears and misrepresentations.  And yes, scientists should be held to a much higher standard than the disinformers [the report is critical of the openness of CRU scientists, but utterly eviscerates the key charges of McIntyre and McKitrick and their ilk].
And so when the Climatic Research Unit (CRU) e-mails were stolen and a massive smokestorm of misinformation was spread about them, the University of East Anglia (UEA) launched an independent review led by Sir Alastair Muir Russell KCB  DL FRSE "a former civil servant and former Principal and Vice-Chancellor of the University of Glasgow, and Chairman of the Judicial Appointments Board for Scotland."
The panel conducted what one contributor to the report called a 'forensic' review.  You can judge for yourself by reading the exhaustingly thorough 160-page report (click here).  It has excellent discussions of many key issues, including peer review.
I would call this a CSI-type review, because of its incredible forensic thoroughness, except that it didn't look at the actual crime — the hacked emails — only the charges against climate scientists.  The investigation found there was no fire, only smoke.  Yes, the report found "that there has been a consistent pattern of failing to display the proper degree of openness, both on the part of the CRU scientists and on the part of the UEA" — and they made many useful suggestions to improve that important failing.
But they found no evidence of any wrongdoing that undermines climate science.  And that is what this is all about — the science — not the scientists, no matter how much the anti-science crowd tries to change the subject.
Let me focus on the charges surrounding the Hockey Stick, since that was the driver for many of the disinformers.  This report underscores a point I made last week in discussing Michael Mann's final exoneration from Penn State: We can be more confident than ever that the "Earth is hotter now than in the past 2,000 years."
Muir Russell didn't try to reproduce the scientific analysis, but it did smash into tiny pieces those who had tried to undermine the key conclusions — and those who tried to claim that the IPCC downplayed the relevant uncertainties.  On the subject of "Temperature Reconstructions from Tree Ring Analysis," the panel found:
The central implication of the allegations here is that in carrying out their work, both in the choices they made of data and the way in which it was handled, CRU scientists intended to bias the scientific conclusions towards a specific result and to set aside inconvenient evidence. More specifically, it was implied in the allegations that this should reduce the confidence ascribed to the conclusions in Chapter 6 of the IPCC 4th Report, Working Group 1 (WG1).

We do not find that the way that data derived from tree rings is described and presented in IPCC AR4 and shown in its Figure 6.10 is misleading. In particular, on the question of the composition of temperature reconstructions, we found no evidence of exclusion of other published temperature reconstructions that would show a very different picture. The general discussion of sources of uncertainty in the text is extensive, including reference to divergence. In this respect it represented a significant advance on the IPCC Third Assessment Report (TAR).

On the allegation that the phenomenon of "divergence" may not have been properly taken into account when expressing the uncertainty associated with reconstructions, we are satisfied that it is not hidden and that the subject is openly and extensively discussed in the literature, including CRU papers.
The report goes into more detail on this:
What is clear is that the uncertainty associated with any estimate of past temperatures from reconstructions is much larger than that of recent instrument temperature data. This is demonstrated in the figure below taken from IPCC AR4 Figure 6.10. The middle plot shows the variability both within and between different reconstructions each using an aggregation of proxy data (i.e. several tree and non-tree proxies). The lower plot gives an indication of uncertainty bands from those reconstructions. Simply looking at any individual reconstruction line alone makes only a partial statement about Northern Hemisphere temperatures with a large uncertainty. It is obviously even less meaningful to look at an individual tree series in isolation.
For some reason, Figure 6.10 doesn't come through, at least in my download of the report, so here it is (click to enlarge):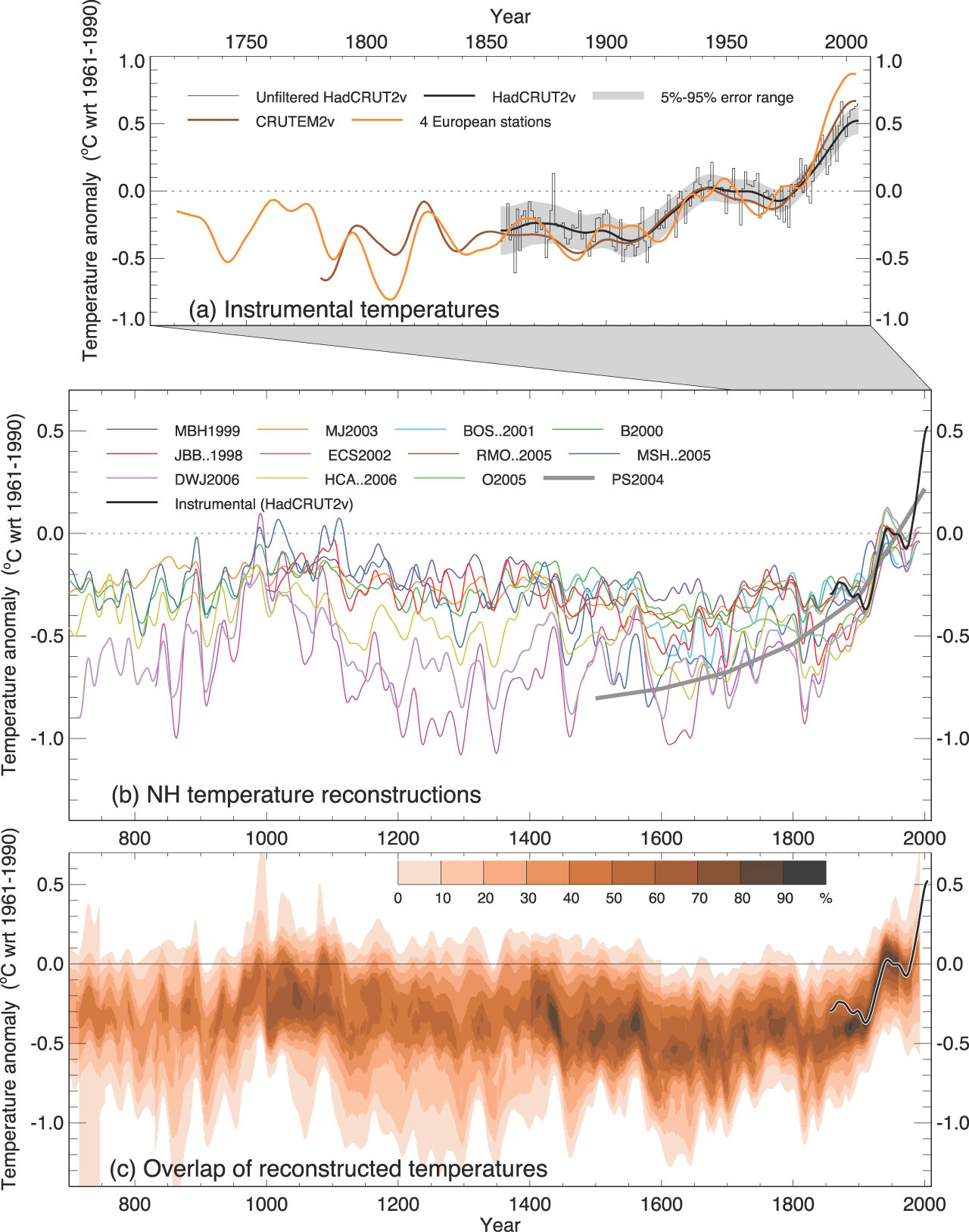 Figure 6.10. Records of NH temperature variation during the last 1.3 kyr. (a) Annual mean instrumental temperature records, identified in Table 6.1. (b) Reconstructions using multiple climate proxy records, identified in Table 6.1, including three records (JBB..1998, MBH..1999 and BOS..2001) shown in the TAR, and the HadCRUT2v instrumental temperature record in black. (c) Overlap of the published multi-decadal time scale uncertainty ranges of all temperature reconstructions identified in Table 6.1 (except for RMO..2005 and PS2004), with temperatures within ±1 standard error (SE) of a reconstruction 'scoring' 10%, and regions within the 5 to 95% range 'scoring' 5% (the maximum 100% is obtained only for temperatures that fall within ±1 SE of all 10 reconstructions). The HadCRUT2v instrumental temperature record is shown in black. All series have been smoothed with a Gaussian-weighted filter to remove fluctuations on time scales less than 30 years; smoothed values are obtained up to both ends of each record by extending the records with the mean of the adjacent existing values. All temperatures represent anomalies (°C) from the 1961 to 1990 mean.
The anti-science crowd and their enablers have tried to attack the science behind this much-vindicated reconstruction — and failed ]see NAS Report and here — the news story in the journal Nature (subs. req'd) on the NAS panel was headlined:  "Academy affirms hockey-stick graph"].
And they have also tried to claim that the IPCC somehow misrepresented the uncertainties.  But as anyone who looks at the figure can see, that is not the case, and the UK panel dismissed that notion:
Finding: We do not find that the data described in IPCC AR4 and shown in Figure 6.10 is misleading, and we do not find that the question marks placed over the CRU scientists' input casts doubt on the conclusions. In particular:

The variation within and between lines, as well as the depiction of uncertainty is quite apparent to any reader.
It presents all relevant published reconstructions we are aware of, i.e. there has been no exclusion of other published temperature reconstructions which would show a very different picture.
The general discussion of sources of uncertainty in the text is extensive, including reference to divergence and it therefore cannot be said that anything has been suppressed. Presenting uncertainty in this way is a significant advance on the TAR.
In short, the Hockey Stick lives!  Indeed, it has been replicated and strengthened by numerous independent studies.  My favorite is from Science last year "" see Human-caused Arctic warming overtakes 2,000 years of natural cooling, "seminal" study finds.
We know with increasing confidence that, as climatologist and one-time darling of the contrarians Ken Caldeira said last year, "To talk about global cooling at the end of the hottest decade the planet has experienced in many thousands of years is ridiculous."
Finally, here are the comments of those who were the targets of the email hacking and disinformation campaign.  The vice chancellor of UEA said,
Nine months ago there was an unjustified attack on the scientific integrity of researchers at the University of East Anglia and, as a result, on climate science as a whole.

Emails stolen from this university were selectively misused to make serious allegations about the work of the Climatic Research Unit and the people who worked there or were connected to it.

Some people accepted those misrepresentations at face value without question and repeated them as fact.

Today, for the third and hopefully for the final time, an exhaustive independent review has exposed as unfounded the overwhelming thrust of the allegations against our science.

We hope that commentators will accurately reflect what this highly detailed independent report says, and finally lay to rest the conspiracy theories, untruths and misunderstandings that have circulated.

Sir Muir Russell's team concludes about the staff of CRU that "their rigour and honesty as scientists are not in doubt".

Furthermore, they "did not find any evidence of behaviour that might undermine the conclusions of the IPCC assessments" and, the report states, there was "no evidence to substantiate" allegations of perversion of the peer review or editorial process.

In summary, the report dismisses allegations that our scientists destroyed or distorted data, tried to pervert peer review and attempted to misuse the IPCC process.

We hope this exoneration of UEA climate scientists and their research collaborators around the world, some of whom have suffered considerably during this experience, will be widely reported.

I am also pleased to announce that Phil Jones has accepted the new post of Director of Research in the Climatic Research Unit with immediate effect. This will provide him with the opportunity to continue the world-leading research which has made CRU a household name.
Phil Jones said:
I am, of course, extremely relieved that this review has now been completed. We have maintained all along that our science is honest and sound and this has been vindicated now by three different independent external bodies.

There are lessons to be learned from this affair and I need time to reflect on them before speaking in public, particularly given the scope of this report.

Meanwhile, I would like to thank those who have supported me over this period and now I would like to concentrate on my new role as Director of Research in the Climatic Research Centre, which will allow me to focus my full attention on the science of climate change.
And Michael Mann says:
I am pleased that the final of the now 5 investigations connected with the hacked CRU emails has come to completion and, like all of the previous investigations, has found that there was no scientific misconduct by any of the scientists.  I was pleased to see the committee confirm that there is nothing in the stolen emails that in any way calls into question the validity of their science. or that of their collaborators and the broader climate research community. The committee found that there was no attempt to misrepresent or falsify data, and no withholding of access to raw climate data, despite the repeated accusations to the contrary by climate change deniers. The committee  specifically rejected the allegation that tree-ring data have been either inappropriately used, manipulated, or withheld by CRU researchers and their colleagues. Finally, the committee rejected the claim, made frequently by climate change deniers that CRU scientists and other climate scientists have in any way subverted the peer review process or sought to inappropriately influence that process.
It is my hope that we can now put this bogus, manufactured scandal behind us, and move on to a more constructive conversation about climate change. It seems particularly ironic that climate change deniers continue to harp over their now discredited claims regarding decade-old emails while we're experiencing almost daily reminders of the reality of global warming and climate change. We're currently witnessing the warmest temperatures ever globally, and are in the midst of a record-setting heat wave in the U.S. associated with the warmest early summer temperatures ever. Meanwhile, the warmest-ever tropical Atlantic ocean temperatures ever are likely to lead to a hyperactive Atlantic hurricane season this summer, and Arctic sea ice is on course to plummet to its lowest levels ever this summer/fall.  Human-caused climate change is a reality, and its about time we get on to a meaningful discussion about what to do about it.
And I'll end with this from the
BBC piece
, which again eviscerates McIntyre and his enablers — are you reading Dr. Judith Curry?
Critics have alleged that the unit's scientists withheld temperature data from weather stations and also kept secret the computer algorithms needed to process the data into a record of global temperature.

The review concludes these allegations are unfounded.

"We find that CRU was not in a position to withhold access to such data or tamper with it," it says.

"We demonstrated that any independent researcher can download station data directly from primary sources and undertake their own temperature trend analysis".

Writing computer code to process the data "took less than two days and produced results similar to other independent analyses. No information from CRU was needed to do this".

Sir Muir commented: "So we conclude that the argument that CRU has something to hide does not stand up".

Asked whether it would be reasonable to conclude that anyone claiming instrumental records were unavailable or vital code missing was incompetent, another panel member, Professor Peter Clarke from Edinburgh University, said: "It's very clear that anyone who'd be competent enough to analyse the data would know where to find it.

"It's also clear that anyone competent could perform their own analysis without let or hindrance."
Anyone competent — 'nuff said.
63 Responses to Final 'forensic' UK report on emails vindicates climate science and research underlying the Hockey Stick