Climate
Stop the presses! Arctic melt ain't over 'til it's over.
So the fat lady sang, but I guess she hit just the right note and  shattered some more ice.  Or it could be those pesky greenhouse gases, which  always seem to be causing trouble….
That plot is from the Japan Aerospace Exploration Agency (click to enlarge), whose latest value for sea ice extent (yesterday) is 4,832,813 km2.  There appears to be a chance JAXA's extent will drop below the 2008 level.
Their data for the last ten days shows how sharp this new downturn is:
09,07,2010:  5027188
09,08,2010:  4989375
09,09,2010:  4972656
09,10,2010:  4952813
09,11,2010:  4986406
09,12,2010:  5005000
09,13,2010:  5008750
09,14,2010:  4998594
09,15,2010:  4948438
09,16,2010:  4890938
09,17,2010:  4832813
UPDATE:  The National Snow and Ice Data Center, which tentatively called a minimum a few days ago, now shows a full double dip [note — the image below updates daily]: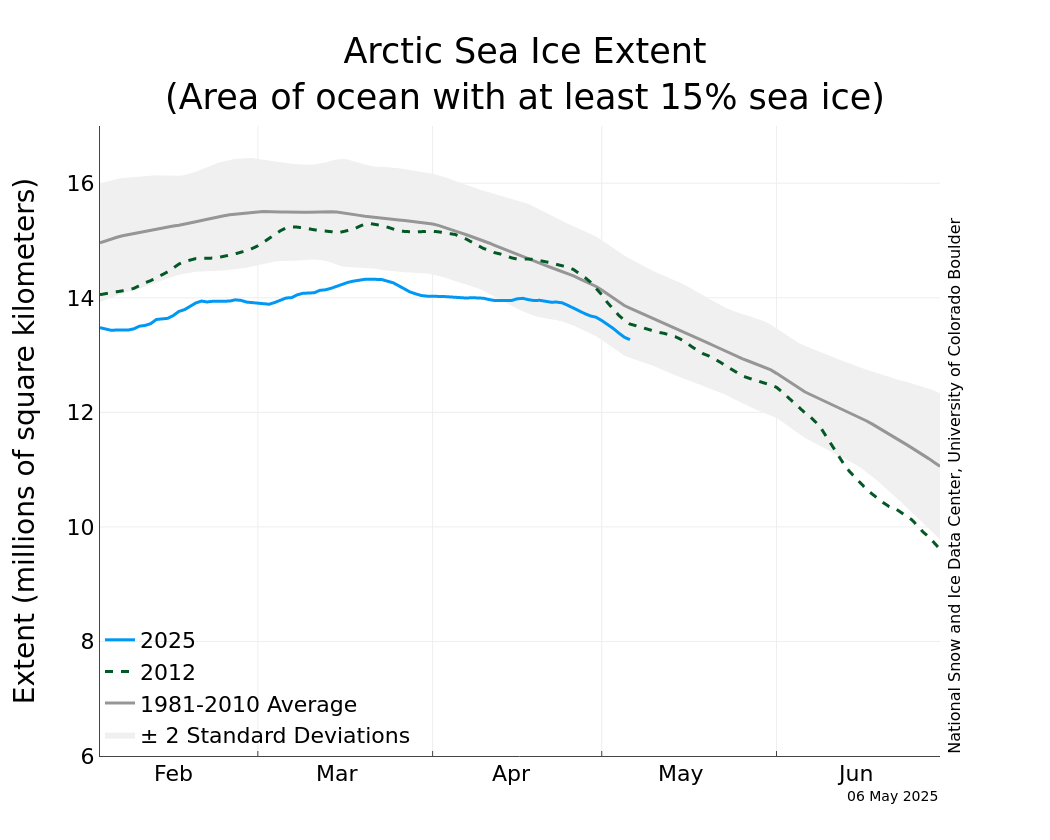 JAXA explains how it differs from NSIDC:
In general, sea-ice extent is defined as a temporal average of several days (e.g., five days) in order to eliminate calculation errors due to a lack of data (e.g., for traditional microwave sensors such as SMMR and SSM/I). However, we adopt the average of two days to achieve rapid data release. The wider spatial coverage of AMSR-E enables reducing the data-production period.
NSIDC uses the less volatile five-day average, which  bottomed out first on  September 10 at 4.72.
The sea ice area  picture seems a little muddier:
I can't find  the actual data for this plot.  If  anyone knows where it is, please post the link.
NSIDC told me that as of Wednesday, it's "only in the E. Siberian Sea where you've had consistent ice growth over the last few days, whereas the other seas still show decreases, or oscillate between increases and decreases."
So it seems possible to me that  volume never went back up and could possibly have continued declining, as the  thicker ice continued to be melted from underneath.  But  there is no real way of knowing at this point.
Stay tuned!
Related Posts:
57 Responses to Stop the presses! Arctic melt ain't over 'til it's over.