Climate
Endangered Easter Bunnies??
National Wildlife Federation:  "While I'm not one to despoil the fantasies of children by pointing out this weekend's spokesbunny doesn't exist, there is a very real threat that the American pika, the mountain bunny of the Rockies, could soon become a figment of our memory."
The American pika, a mountain-dwelling mammal in the West, does not do well in temperatures above 78 degrees.
I typically focus on what the science tells us about the catastrophic impacts humans face if we stay anywhere near our current emissions path.  If self-preservation won't motivate us, whatever empathy we can muster for our furry friends surely can't.
Still, last year, I thought the apparently 'expendable' pika deserved at least one blog post, after the Obama administration threw them under the bus, denying them Endangered Species Act protection (see "So long Pika, we hardly knew ya").
Now it's Earth week and Easter Sunday — and there's a new study on the grim local extinction rates of the pika, as Brad Johnson reports:
New research published in Global Change Biology find that local populations of pikas "" each isolated on the upper reaches of different mountains "" are being extirpated by warming temperatures at an increasingly rapid rate. "Four of ten local pika extinctions have occurred since 1999," the team of scientists from the American West found. The remaining pikas are being driven to higher and higher altitudes as global warming accelerates:
Local extinction rates of American pikas have increased nearly five-fold in the last 10 years, and the rate at which the climate-sensitive species is moving up mountain slopes has increased 11-fold since the 20th century, according to a study soon to be published in Global Change Biology.
What was the basis for the Obama admin's decision about the pika?  Last year, MSNBC reported: "A copy of the decision listed on a federal Web site on Thursday says while some pika populations in the West are declining, others are not. The agency says Endangered Species Act protections are not warranted."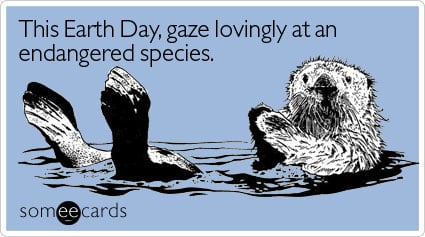 The abstract of the new study notes that "across this ecoregion the low-elevation range boundary for this species is now moving upslope at an average rate of about 145 m per decade."
Keep climbing, Pika.  I'm sure there are enough tall mountains to ensure that a few of your populations don't decline for a few more years.  But don't worry, I'm sure when they are all in decline, they'll put you on the list, though it probably won't be very exclusive then (see "Bush launches Unendangered Species List").
WWF has more on this "small flower-gathering relative of the rabbit," a "canary in the coal mine," for global warming because it is ill-suited for adapting to rapid climate change:
The pikas' particular vulnerability to global warming is due to several factors. American pikas cannot easily migrate in response to climate change, as their habitat is currently restricted to small, disconnected habitat "islands" in numerous mountain ranges. Although talus within mountain ranges is often more continuous, this is not always the case; some ranges only have habitable talus at lower elevations or in broadly separated patches. Furthermore, American pikas generally do not appear to move large distances, as many individuals may spend their entire lifespan within a half-mile radius. Pikas do not inhabit burrows which could mitigate extreme temperatures and are highly active aboveground during the hottest months of the year. In the warmer months, pikas must cure vegetation for their overwinter survival as pikas are active year-round and food is scarce in winter in the alpine environment. Earlier maturation of vegetation associated with global warming may mean increased stress for pikas, and hotter temperatures during high activity periods can create direct thermal stress on the animals. Pikas are densely furred, and thus cannot dissipate heat easily.
We will always have zoos and pretty still photos! Oh, and videos, too:
13 Responses to Endangered Easter Bunnies??