Climate
November 11 News: Major U.S. Carbon Capture and Storage Effort Flounders So Coal is Still Not Clean
Key Story Below: A tax break that could help get America's first offshore wind farm up and running has been available for two years. But no one can qualify for it.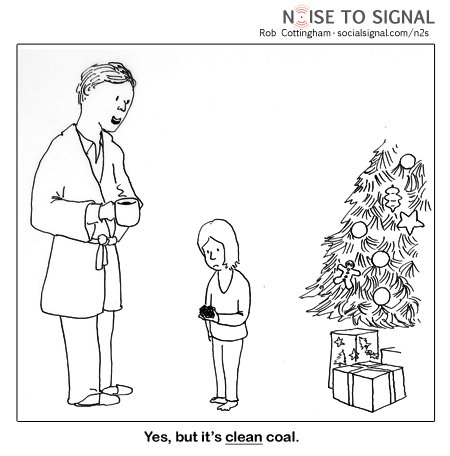 Coal Project Hits Snag as a Partner Backs Off
The leading American effort to capture carbon dioxide from coal plants has hit a stumbling block that could imperil the project and set back a promising technology for addressing global warming, people involved in the venture said.

Ameren, the Midwestern power company that was to be the host for the project, has told its partners that because of its financial situation, it cannot take part as promised, although it has not told them exactly what it will do. The company had agreed to supply an old oil-fired power plant in Meredosia, Ill., that would be converted to demonstrate the carbon-capture technology on a commercial scale.
Participants in the venture, known as FutureGen 2.0., are to meet next week to work out how they might get access to the old plant, which Ameren recently said it would shut down by the end of the year, and how it might be maintained until the remaining partners are ready to take it over. The people who talked about the project asked not to be identified because FutureGen's directors had not yet met.

While the other major partners, Babcock & Wilcox and Air Liquide, could seek to buy the plant and convert it without Ameren, time is short. The federal government promised the project $1 billion, or roughly 80 percent of its costs, on the condition that the money be spent by the end of 2015. That's a tight time frame for developing a technology that has never been used on a commercial scale, the participants said.
Related Posts:
Never-Used Tax Credit Could Jumpstart U.S. Offshore Wind Energy—if Renewed
Congress is considering overhauling a never-used tax credit for offshore wind energy instead of letting it expire at the end of next year , as was originally scheduled.

The U.S. still doesn't have a single turbine in its waters—compared to the 1,250 turbines spinning at nearly 50 offshore wind farms in Europe. Several U.S. industry leaders and analysts told InsideClimate News this is unlikely to change unless the untapped incentive is renewed.

The tax break, available since 2009, gives offshore wind developers a credit worth 30 percent their project costs if they begin construction by 2012. It was meant to help the dozen or so proposed wind parks get off the ground after the credit markets seized up.

But no wind developer has been able to take advantage of it because they don't have approvals required under federal law. An uncertain permitting process in Washington has left projects in regulatory limbo for as much as a decade.


In part due to the permitting snags, "no bank has stood up and said they'll finance offshore wind" in the U.S., said Peter Mandelstam, founder and president of NRG Bluewater Wind, a subsidiary of New Jersey power producer NRG Energy.

NRG Bluewater is now one of a handful offshore wind developers that's literally banking on Congress to preserve the tax credit as the Obama administration moves faster to approve projects. His firm has been trying to build a $1 billion-plus, 450-megawatt wind park off the coast of Delaware for five years now. Strong and steady winds at sea can generate more carbon-free electricity than wind blowing on land, but offshore turbines are expensive—at least 50 percent more to build than those on land.

Our project is "not financeable" without a government kickstart, Mandelstam said.
20 Responses to November 11 News: Major U.S. Carbon Capture and Storage Effort Flounders So Coal is Still Not Clean