Climate
The Lorax Speaks For The Trees — Get Over It Conservatives
Take your kids to see The Lorax.
I took my 5-year-old daughter and she loved it. Despite the best efforts of Fox News to smear the movie, The Lorax is doing very well at the box office — $70 million opening weekend (better than other Dr. Seuss movies) and "strong midweek numbers" — for a reason. It's entertaining.
There is a great closing song, "Let It Grow," about letting the Once-ler's last Truffula Seed grow into a tree (if you don't know who the Once-ler is or what he did to every last Truffula tree in his self-destructive quest to make and sell Thneeds, the movie probably isn't for you). The online remix of the song doesn't do it justice, so you'll just have to take your kids to see the movie.
Fox News's Lou Dobbs complains Hollywood's goal is to "indoctrinate our children" — one of his guests claims the goal is to create "occu-toddlers"! Apparently it's okay for conservatives to push a "Secret, Corporate-Funded Plan To Teach Children That Climate Change Is A Hoax." But a movie based on a classic children's story — that's out of bounds.
Funny how Dobbs attacks Hollywood and the fictional Lorax — "a tree-smooching commie" — rather than Dr. Seuss, who wrote the book. Yes, the movie expands on the book, but doesn't make it any stronger. The book itself has a strong message, though it isn't anti-business per se, merely anti-unsustainable business.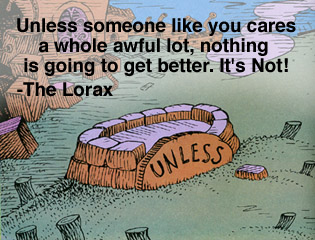 It's safe to say that anyone shocked that the movie has a strong environmental message has never read the book. The Lorax speaks for the trees.
What is particularly amusing is how the reviewer for Rupert Murdoch's Wall Street Journal reinterprets the story to turn the Once-ler into an "entrepreneur" — and the Lorax into a failed environmentalist — in his negative review "The Bad! Bad! Bad! Biggering of Dr. Seuss":
The Hollywood version of "The Lorax" rails against corporatism while replacing the quirky individualism of Dr. Seuss's ink-work with the rubberized gloss of digital animation. The movie lectures us not to accept the sterility of plastic inflatable trees as a substitute for nature, and follows the sermon with a closing-credits hymn of processed pop. Is anything less organic than an Auto-Tuned singer?
Seriously. Auto-tuning is anti-environmental! You pop-singing hypocrites.
As an aside, the movie's promotion has its hypocritical elements. Kate Sheppard of Mother Jones has a good piece on how "The film version of The Lorax is actually pretty good. So why is the marketing campaign so awful?" I raised a similar issue about another excellent environmental movie — see Wall-E is an eco-dystopian gem — an anti-consumption movie (from Disney!). But those who claim it has "a heavily diluted environmental message," are wrong.
Back to the amazing Wall Street Journal review:
The character responsible for all the destructive biggering in "The Lorax" is a mysterious and remorseful recluse called the Once-ler, who once chopped down a great Truffula forest over the objections of the Lorax. It's easy to think of the Once-ler as a simple stand-in for rapacious loggers. But even if that was what Dr. Seuss had in mind, he knew hectoring is as boring as it is impotent: The Lorax—for all his yap-yapping of "Bad! Bad! Bad! Bad!"—can do nothing to keep his starving Bar-ba-loots from getting crummies in their tummies.
Talk about shoe-horning a children's book masterpiece into your narrow world view. The book was written in 1971 — 40 years ago, quite some time before this right-wing stereotype of environmentalists took over.
Dr. Seuss's point isn't that the Lorax is impotent — the point is that it's up to us to stop unsustainable industries: "UNLESS someone like you cares a whole awful lot, nothing is going to get better. It's not." If the Lorax has stopped the Once-ler, there could be no lessons to learn and no such message.
Of all the things you can accuse Dr. Seuss of, hiding his main message isn't one of them! Oh, but the WSJ has reinterpreted the story for the 1%:
Yes, the Once-ler liked money. But he was driven more by the entrepreneurial urge to create. Not only does he invent the Thneed (a sort of fuzzy body-stocking), but he builds a radiophone, fixes pipes and makes his own clothes "out of miff-muffered moof." He builds a factory and single-handedly devises and fabricates the "Super-Axe-Hacker." He doesn't have pockets for his change. Instead he "hides what you paid him / away in his Snuvv / his secret strange hole / in his gruvvulous glove." The Once-ler is something of a marvel.
In short, the "Once-ler" is a job-creator.
Except, of course, he isn't — and that's Dr. Seuss's point too. If you destroy all of the natural resources in your rapacious quest for short-term economic gain, then you are left with no jobs — and a ruined environment.
It's a lesson as valuable today as it was in 1971. Too bad there are too few people who care an awful lot — and too many in powerful positions who don't care at all.
Take your kids to see The Lorax. Heck, even if you don't have kids, see the movie. So few movies get made with environmental themes these days (see Apocalypse Not: The Oscars, The Media And The Myth of 'Constant Repetition of Doomsday Messages' on Climate).
9 Responses to The Lorax Speaks For The Trees — Get Over It Conservatives