20 Responses to June 3 News: Tar Sands Supporters Suffer Setback As British Columbia Rejects Pipeline
Climate
June 3 News: Tar Sands Supporters Suffer Setback As British Columbia Rejects Pipeline
CREDIT: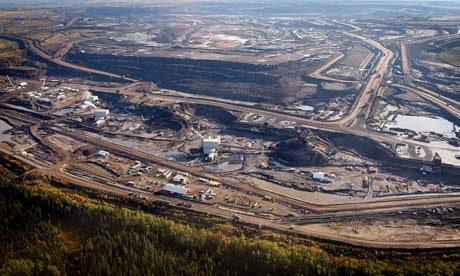 "Prices for tar sands crude have been dropping in the absence of a reliable export route."
The government of British Columbia issued an official submission to Canada's pipeline review panel rejecting a proposed pipeline through the province to the Pacific. [Guardian]
Efforts to expand production from the Alberta tar sands suffered a significant setback on Friday when the provincial government of British Columbia rejected a pipeline project because of environmental shortcomings.

In a strongly worded statement, the government of the province said it was not satisfied with the pipeline company's oil spill response plans.

The rejection of the pipeline – which was to have given Alberta an outlet to Pacific coast ports and markets in China – further raises the stakes on another controversial tar sands pipeline, Keystone XL….

The Enbridge project, though not as ambitious as Keystone XL had been an important part of Harper's contingent plan. Canadian government officials had argued that if Obama turned down Keystone XL, Canada would simply ship crude to China.
Six native Alaskan tribes are asking the EPA to block approval of what would be the largest mine in the world in Bristol Bay, an area home to about half the world's sockeye salmon. [Washington Post]
The Atlanta Tea Party is targeting Southern Company subsidiary Georgia Power over the monopoly's reluctance to increase its use of solar power, as well as its nuclear fleet and monopoly status. [AP]
Nearly 3,000 people are being forced to evacuate their homes ahead of a wildfire north of Los Angeles. [ABC News]
Could climate change be behind the changing trade winds around Hawai'i? A new study says it's possible. [AP]
Environmental groups are publicly supporting comprehensive immigration reform efforts. [Politico]
Severe floods and drought are causing thousands in Bangladesh to flee to the capital, Dhaka. [Al Jazeera]
EPA will ask scientists to look at proposed new water quality standards that could enable better monitoring of ocean acidification. [Summit County Citizens Voice]
Solar energy is getting cheap enough that some solar company executives are not as concerned with efforts to remove solar tax incentives as they once were. [Denver Post]
Vestas, the Danish wind company, said it was planning to build some of the longest wind turbine blades in the world out of its factory in Colorado. [AP (video)]
How a zinc-air battery could be twice as powerful as current lithium-ion batteries. [Energy Collective]
Nissan started field-testing a new van powered 100 percent by electricity. [CleanTechnica]