Q:  Would any GOP Senator today get the kind of funeral and remembrance that Edward Kennedy has?
A:  That is increasingly unlikely.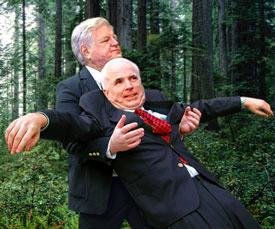 Certainly all GOP Senators who vote against the upcoming climate and clean energy bill will be consigning themselves to be dustbin of history.  Given how rapidly climate impacts are accelerating, by the 2020s the entire country — even most Republicans — will realize how tragically mistaken were those who blocked serious action and who demagogued against those trying to avert catastrophe.  Those conservatives who want to be fondly eulogized by the status quo media and centrist opinionmakers have maybe a decade left.
Dick Cheney himself may live long enough to be seen by even his last 3 or 4 remaining admirers as a leading agent of humanity's self-destruction (see "Has anyone in U.S. history made more Americans less safe than Dick Cheney?").  And I can't even imagine the kind of funeral President George W. Bush will get if he lives to, say, the 2030s, when the consequences of his all-out effort to stop domestic and international action on climate change have initiated the grim time in American history I've labeled "Planetary Purgatory."
But there are also important lessons for Democrats here, too.  Although an indisputable liberal lion, Kennedy repeatedly reached across the aisle to achieve what was achievable.  As the Post reported this weekend in, many Democrats say
… what made Kennedy successful was knowing when to compromise, when to agree to terms that fell short of expectations but left room for later gains. "He had this unerring sense of what was the critical bottom line for the people most in need — what the key goal was you were making progress on and why you were at the table to begin with," said Robert Greenstein, director of the Center on Budget and Policy Priorities.
Geoff Garin, a Democratic pollster and strategist has brief but must-read op-ed, "Where's the GOP's Ted Kennedy?":