The multiyear ice covering the Arctic Ocean has effectively vanished….

"I would argue that, from a practical perspective, we almost have a seasonally ice-free Arctic now, because multiyear sea ice is the barrier to the use and development of the Arctic," said Barber [Canada's Research Chair in Arctic System Science at the University of Manitoba].
The latest tracking of Arctic sea ice extent from the National Snow and Ice Data Center shows that we've hit the record low Arctic sea ice extent for this time of year.  In a post last week, "Warm winds slow autumn ice growth," NSIDC noted "October 2009 had the second-lowest ice extent for the month over the 1979 to 2009 period."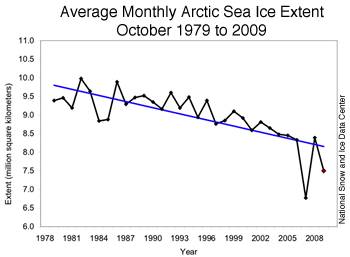 As Reuters noted in their remarkable piece on Canadian cryosphere scientist David Barber, "Scientists link higher Arctic temperatures and melting sea ice to the greenhouse gas emissions blamed for global warming."
Duh.
Here's more on what Barber found in a recent expedition: