LGBT
Marine Commandant Suggests Presence Of Gays Would Endanger The Lives Of Straight Marines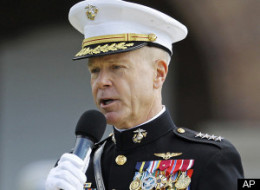 Speaking to reporters this afternoon, Marine Commandant Gen. James Amos — who has opposed repealing Don't Ask, Don't Tell — suggested that if Congress lifts the ban against open service and allows gays to serve without hiding their sexual orientation, the Marines could be so distracted that they would die in the line of duty:
The chief of the US Marine Corps said Tuesday that ending a ban on openly gay troops in the military could jeopardize the lives of Marines in combat by undermining closely knit units.

General James Amos, commandant of the Marine Corps and an opponent of lifting the "Don't Ask, Don't Tell" prohibition, cited a Pentagon study saying Marines fighting in Afghanistan were worried that permitting gays to serve openly could disrupt "unit cohesion."

"When your life hangs on a line, on the intuitive behavior of the young man… who sits to your right and your left, you don't want anything distracting you," Amos told reporters at the Pentagon.

"I don't want to lose any Marines to distraction. I don't want to have any Marines that I'm visiting at Bethesda (hospital) with no legs," he said.

He added that "mistakes and inattention or distractions cost Marines' lives. That's the currency of this fight."

His comments were the toughest yet on the issue, after he testified at a congressional hearing that he opposed lifting the ban at a time of war.

Amos said Marines fighting in Afghanistan sent a "very strong message" in the Pentagon's recent study, expressing opposition to the repealing the ban in an survey.

"I have to listen to that," he said.
The study did reveal that Marines are most opposed to repealing the measure, but nowhere did it suggest that the distraction of gay servicemembers would have the effect of killing their straight counterparts. What it found was that 47.2% of Marines said a repeal of DADT would have a negative impact and were more likely to say their morale would be negatively affected by repeal than other Service members. Ninety-two percent of servicemembers also said they were fine with working with their gay colleagues, including 84% in Marine combat arms units.
As the study's co-chairs explained during testimony before the Senate Armed Services Committee earlier this month, the negative findings were not insurmountable, and that with the proper leadership and communication, the policy could be repealed without undermining unit cohesion. In fact, both Gates and Mullen argued that if Congress doesn't move forward with repeal, the courts will likely rule the policy unconstitutional and force the military to end the ban without providing any time for a smooth implementation process.
The study's co-chairs also explained that the Marines' more negative reaction was partly the result of their relative inexperience with gay servicemembers. Here is how Army Gen. Carter F. Ham put it to me shortly after the report was released:
One of the factors that causes a difference in the Army and the Marine Corps combat arms responses when compared to the overall responses is that we find in those two communities, Army and Marine Corps combat arms, — and this is probably unsurprising — that those communities have lower rates of actual experience of having served alongside a gay or lesbian servicemember. They're all male organizations. They are the youngest communities, if you will, within the military. So you know, it's not really surprising that they have less actual experience serving with gay and lesbian servicemembers. We did find in the survey that there is a difference between servicemembers who have and those who have not served with gay and lesbian servicemembers. And I think this may be one of the significant contributors to the differences between combat arms responses and the force overall.
Amos should not be worried about the "distraction" of gay servicemembers. The real distraction is a policy which denies gay Marines the right to confide in their straight comrades as they're dealing with the difficulties of deployment.

SLDN responds: "General Amos needs to fall in line and salute or resign now. He implied that repeal will lead to Marines losing their legs in combat. Those fear tactics are not in the interest of any service member. The General's goal is to kill repeal no matter the consequences, perhaps at the dereliction of his other duties. He had his say before the Senate and House. General Amos needs to stop lobbying against his Commander-in-Chief, the Secretary of Defense, and the Chairman of the Joint Chiefs. If he cannot do that, the President should ask for his resignation," said Aubrey Sarvis, Army veteran and executive director for Servicemembers Legal Defense Network.
,Servicemembers United responds: "General Amos's comments about the inevitable repeal of 'Don't Ask, Don't Tell' are getting worse and worse. His commentary is moving from the realm of reasonable disagreement in the provision of professional military
advice to hysteria-inducing absurdity on this topic that reflects very poorly on DOD and on the administration."
[updat