Share this:
"LIVE: Byrd Gives Major Speech on Nuclear Option"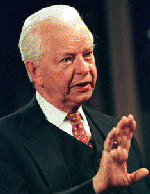 This morning at 9:30, Senator Robert C. Byrd (D-WV), American Progress president and CEO John Podesta, and several other distinguished speakers will discuss Sen. Bill Frist's plan to trigger the nuclear option and torpedo filibusters against President Bush's most radical judicial nominees. Sen. Byrd has told us he plans to deliver a particularly meaningful address today — you can watch the event LIVE via streaming webcast here, or on C-SPAN2.
Feel free to use this thread to comment on the event while you watch.