Share this:
"A Cause About the Size of My Self-Interest"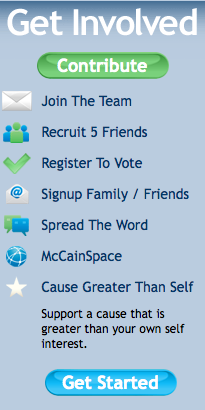 John McCain's website's gotten a nifty makeover, giving no indication that he's a Republican and aimed at convincing people that he's the real environmentalist candidate in this race even though I don't believe you could find a single actual environmentalist or environmental group to bac that claim up. But it also has a navigation sidebar on the right-hand side reproduced over here on the left. As is common with John McCain, the idea of supporting a cause greater than self-interest is invoked. But in this case, it's an invocation to give money to John McCain.
The cause, in short, is greater than your self — it's the greater glory of John McCain. That, my friends, is the kind of change you can really believe in.