Politics
After Rejecting Stimulus Funds For Education, Palin And Sanford Now Opt-Out Of National Standards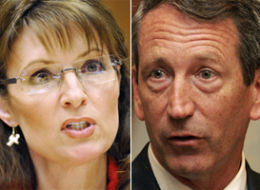 Yesterday, Education Week reported that 46 states have agreed to join forces to create common academic standards in math and English language arts through an effort led by the National Governors Association and the Council of Chief State School Officers. A primary goal of the initiative is to "eliminate the patchwork of academic standards across the country that result in students in the same grades learning different things in different states." In Mississippi, for instance, 90 percent of fourth-graders passed the state reading exam in 2007, according to U.S. Department of Education data. But only 51 percent had at least "basic" or "partial mastery" on the test known as the Nation's Report Card.
Republican Governors Sarah Palin of Alaska and Mark Sanford of South Carolina – the same governors who postured to reject millions of education stimulus funds – are among the four governors refusing to join the initiative. In a press release Palin said:
Alaska's decision not to participate until after we monitor this is based on our desire to spend our time and public resources to improve instruction in the classroom and to form productive relationships between schools and the communities they serve.
However, Alaska state education commissioner Larry LeDoux noted that merely signing up for the initiative would not drain any state resources. The Washington Post reported that the sign-up phase for the initiative is a preliminary step and that later "each state would decide individually whether to adopt" the proposal recommended by the organizers.
South Carolina cannot officially join the initiative because Sanford refused to co-sign South Carolina's application with State Superintendent of Education Jim Rex. Sanford's spokesman said he opposed signing the application because the "governor does not have a role in implementing education policy." However, Rex is a strong proponent of the initiative and by refusing to sign the letter, Sanford is essentially setting education policy. Sanford's obstruction most likely stems from Rex's outspoken criticism of Sanford's decision to block $700 million in stimulus money for education and public safety.
According to a report by the Center for American Progress and the U.S. Chamber of Commerce on educational effectiveness, both South Carolina and Alaska received a 'D' in overall academic achievement:
Notably, this initiative is a voluntary effort that promotes ideas from the states – something conservatives claim to support – rather than a mandate decided by an agency in Washington, DC.