President Donald Trump has done something genuinely unexpected, inevitable. By agreeing to delay his 2019 State of the Union address until such time as the partial federal shutdown he set in motion ends, Trump has humbled himself to a superior political force — House Speaker Nancy Pelosi.
It a rare act of contrition for the president, who imagines himself as the alpha male über alles. Nevertheless, he swallowed hard, set aside his pride and tapped out a late-night concession, acknowledging that the speaker's revocation of an invitation to address the nation from the House chamber had gotten the better of him.
"As the Shutdown was going on, Nancy Pelosi asked me to give the State of the Union Address," Mr. Trump wrote on Twitter, not long after 11 p.m. Wednesday, and several hours after he had earlier challenged Pelosi to try and stop him from speaking. "I agreed. She then changed her mind because of the Shutdown, suggesting a later date. This is her prerogative – I will do the Address when the Shutdown is over."
As the Shutdown was going on, Nancy Pelosi asked me to give the State of the Union Address. I agreed. She then changed her mind because of the Shutdown, suggesting a later date. This is her prerogative – I will do the Address when the Shutdown is over. I am not looking for an….

— Donald J. Trump (@realDonaldTrump) January 24, 2019
….alternative venue for the SOTU Address because there is no venue that can compete with the history, tradition and importance of the House Chamber. I look forward to giving a "great" State of the Union Address in the near future!

— Donald J. Trump (@realDonaldTrump) January 24, 2019
This day in the life of the president must have been one of his most upsetting. For Pelosi, however, it had to have been the most satisfying and triumphant day in her second act as House speaker. For the nation bearing witness to Trump being outmaneuvered by Madam Speaker, that 24-hour period may very well be a harbinger of history in the making.
To recap: Trump sent Pelosi a bullying letter insisting he would speak to the nation, disregarding the speaker's January 16 letter that effectively suggested the postponement of the annual address until after the federal shutdown is settled. In her letter, Pelosi cited security concerns related to the now month-long shutdown, and urged that "we work together to determine another suitable date after the government's re-opened"…"or for you to consider delivering your State of the Union address in writing to the Congress on January 29th."
Here's the letter from Pelosi uninviting President Trump to give the State of The Union address on January 29th pic.twitter.com/InuBKUV4FF

— Justin Gray (@grayjustin) January 16, 2019
But Trump, never content to have his manhood challenged, fired back. His first response to Pelosi, which came after a day of radio silence, was to cancel a congressional trip to Belgium and Afghanistan that was to serve as a fact-finding mission about the state of play in America's long troop deployment in the latter nation. Trump's abrupt decision caught the Pentagon and other officials, who had spent a considerable amount of time coordinating the trip, by surprise. Trump, in his answer back, said that the trip would also be postponed until after the shutdown.
But the postponement of that excursion didn't have the effect of moving Pelosi from her position on the State of the Union address. So Trump, on Wednesday morning, sent Pelosi another letter in which he insisted that he would bogart his way into House and conduct his speech, no matter what anyone said.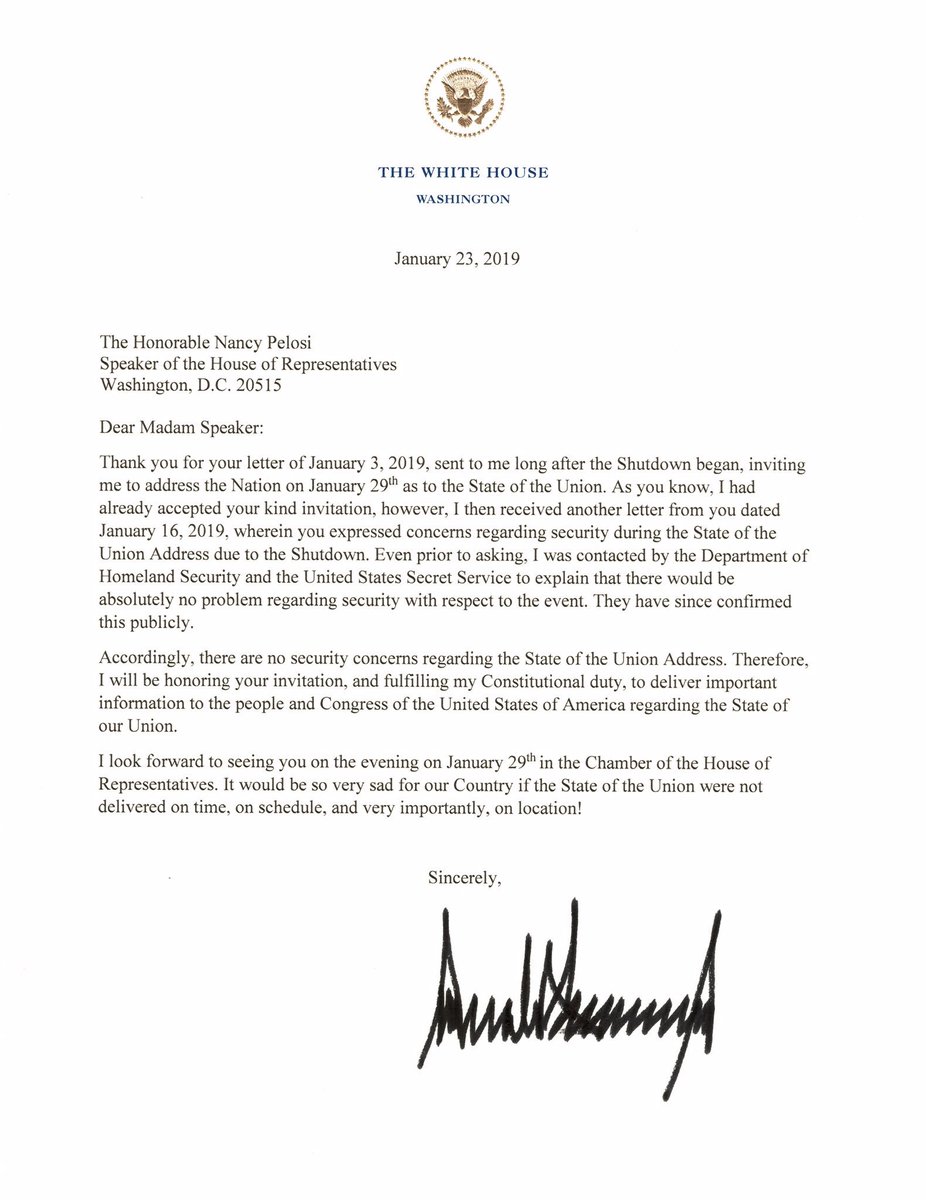 A credible argument exists that If Pelosi forced the typically obstinate Trump to back down in this relatively meaningless, who-will-blink-first confrontation, she would be signaling her intent to stand just as fast in cases in which the stakes are substantially higher — say, in the ongoing standoff over reopening the federal government. So far, as the government shutdown extends into its second month, Pelosi — not the president of the United States — has cast the larger and more commanding presence over official Washington.
And so far, she's demonstrated on an almost daily basis that she is a capable and effective corrective to Trump's impulsive excesses. What's more, her ability to stare down Trump has answered, in rather stark relief, those critics — mostly outliers within her party — who only months ago actually questioned whether she was up to the job.
Rep. Tim Ryan (D-Ohio), for example, led a rabble-rousing group of "Never Nancy" Democrats in the House, even going so far as to mount an ill-fated bid to unseat her in 2017 as leader of the party's delegation. Now, Ryan sings Pelosi's praises.
Earlier this month, in an appearance on MSNBC's "Morning Joe" just prior to the State of the Union showdown, Ryan was effusive in his backing of Pelosi:
I don't think anyone at any point questioned her ability to negotiate, for her to be in rooms like the one she's going to be in today, like the one she was in last week, and be as effective as anybody else in our caucus or in our party. And I think that Donald Trump, I think, understands that now, and we have all the confidence that she will advocate on our behalf and get the best deal possible for the American people.
Pelosi killed that intra-party rebellion by reclaiming the speaker's gavel. Now, she's turned her formidable political skills to taming the unruly occupant in the White House. Less than a month into the job, she's showing Trump what being a boss of the Beltway really looks like.
As MSNBC's Lawrence O'Donnell acutely noted Wednesday in "The Last Word" segment of his show, Pelosi "crushed" Trump because she's "the very first person who has stood up to him and stopped him, the very first person who has the Constitution-granted power to stop him from getting what he wants."
Trump might do well to get used to backpedaling because that humbling day that Pelosi forced him to endure was merely a precursor of more to come.